Indie developers are always on the lookout for new projects to attract more users. The genre involves all sorts of puzzles, from card games to theatrical productions. Card Thief is a great project that you'll want to play constantly.
Game features Card thief
The game location is a card field with 3 by 3 squares. Your character is a thief and you must find your way to freedom by gradually removing cards. This requires you to correctly draw a path line on the field. It's important to remove at least two cards per turn, with a maximum of eight. Some cards give the thief stealth points, and others take them away. A balance must be struck so that the scores don't go to the minus.
Card Thief is not a simple solitaire game. The game is designed as a fascinating story. And in it the main character is a thief, seeking to pass the dungeon bypassing the guards and traps. There are a lot of cards, some of which are unlocked immediately. And for others you need to go through certain stages. Cards come in different types – guards, chests of gold, barrels, torches of fire and dirty deeds.
Gameplay is uncomplicated. Cards with torches create a disturbance for the thief, as they brightly light the way. If such a card is removed, there will be darkness and the guards will not see the thief. Chests must be picked up, but refraining from looting may result in a tidier haul later on.
The light areas may be attacked by guards. You'll need to spend stealth points to eliminate the disturbance, and you'll need to destroy the balance. Walking in a barrel reduces the chance of being caught.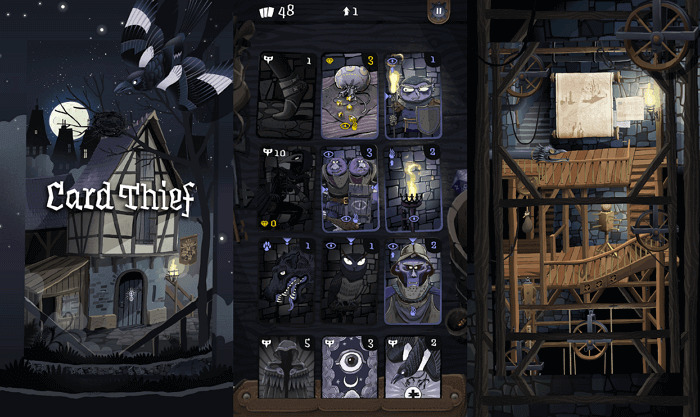 Campaign nuances
The unusual and well-designed solitaire game has a storyline that must be completed successfully. The campaign consists of several levels. To open the next one, you must complete the previous one. To do so, you must collect valuable chests. These receptacles hold payment for completing the following levels.
There are card helpers in the game. But they are not immediately helpful, as you can count on their help with certain achievements in the game. The helpers are able to swap cards. They can mix up the cards in the deck or add more stealth to the player.
Card Thief is a wonderful game project, which will be liked by all solitaire fans. During the creation of the game the author used different technologies and mechanisms, with the help of which it is possible to recreate a fascinating story. To play well you will need luck and a little ingenuity. Everything else can be found in the game.